The Limits of the Frontiers, film series
For this year's PhotoIreland Festival 2012, Instituto Cervantes Dublin introduces
The Limits of the Frontiers
: a film series that offers a transnational view by Spanish directors, or directors resident in Spain who question human or physical frontiers. These artists intend to portray, through documentaries, contemporary society conflicts, migrant movements and interculturalism.
Tue 3 Jul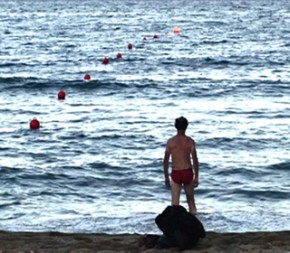 In January, Perhaps
Directed by Diogo Costa Amarante
52 min – Romanian/Spanish – English subtitles
When Romania joined the European Union on the 1st of January 2007, the Spanish government established a two-year moratorium to restrict freedom of movement for Romanian workers. Following this measure, many Romanians with residency status in Spain were prevented from working in Spain until the 1st of January 2009. Daniel is a homeless Romanian that struggles to survive in the streets of Barcelona and believes that he will find a job in January 2009 and change his life.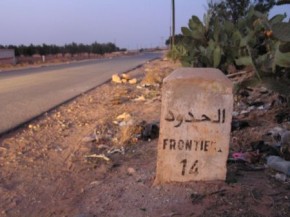 Distances
Directed by Pilar Monsell
28 min – French/Lingala – English subtitles
A group of refugees from Congo are stuck in Rabat. The Spanish borderline prevents them from entering Europe. In a remote room on the outskirts of the city they rehearse a theatre piece based on their own experiences. An imperfect, unfinished piece. Boundaries between real life and the stage are blurred.
Apollinaire recounts, face to face, the never-ending journey with an uncertain conclusion. Television archive images show us emigrants forced into the desert to start their journey once more. Faces without a name. Left behind are the empty spaces of what has already happened. Silent tracks that reveal their story as our own.
Info
The free film series run throughout July every Tuesday at 6pm.
No booking necessary.
Instituto Cervantes
Lincoln House, Lincoln Place, Dublin 2.
Tue 10 Jul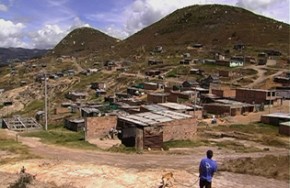 Displaced
Directed by Josep Lluís Penadès Boada
58 min – Spanish – English subtitles
To abandon one's home, birthplace, family, friendships… in exchange for life elsewhere. A horrific reality for twenty six million people all over the world as a consequence of war, persecutions and human rights violations. Over three million of them live in Colombia. This is the story of the residents of a neighbourhood in southern Bogotá and, at the same time, the story of so many others who have suffered, are suffering and will continue to suffer the luck of the displaced.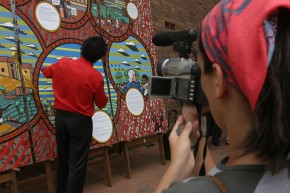 Between the lines
Directed by Esther Lozano, Mónica Garriga
45 min – English – Spanish subtitles
Between the lines offers a unique and intimate view of Australian identity through the critic eyes of an Aboriginal urban artist. Adam Hill embarks on an intense personal and artistic journey through his artwork in search of his identity. Adam faces his frustrations and his commitment with his own aboriginality and struggles with the opinions of both the society that surrounds him and of the people closest to him. Adam's contradictions and frustrations are not exclusive to him, to the Aboriginal Australians or the Australians. They are universal. The yearning and the right to belong to a place and to define one's own identity is a struggle made harder than ever with the challenges faced by globalisation. The structures of power impose or deny identity, and this documentary emphasises this individual's struggle.
Tue 17 Jul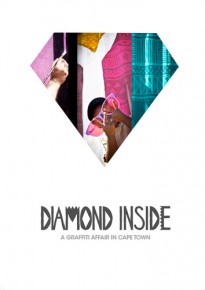 Diamond Inside
Directed by Luis Sánchez Alba
63 min – Spanish/English – English subtitles
This is the journey of the Boa Mistura collective to Cape Town. On their arrival they will meet artists and people from marginalised neighbourhoods in the city, such as Khayelitsa or Woodstok. Their goal is to draw murals that inspire change through art in the comunity. This documentary recounts personal experiences of various dwellers who struggle to generate that change amongst the most underpriviledged sector of the population.
Tue 24 Jul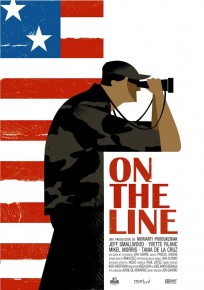 On the Line
Directed by Jon Garaño
13 min – English – Spanish subtitles
It is an ordinary Saturday in Southern California. Adam, an American lower-middle class man, bids farewell to his wife and children to undertake his weekly chore. A task implying sacrifices, but that he accomplishes with the solid conviction of his ideals.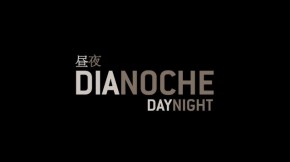 Day Night
Directed by Marcos Miján
63 min – Chinese/English – Spanish subtitles
In the vertigo that shapes day and night in China's capital, this documentary follows, over a year, the lives of a Danish biker who dreams of opening a rockabilly bar by Houhai Lake, a student from the North wandering between two cultural models, a young man from Alaska who hides underground in Beijing, and a Spanish journalist seeking to unravel the mystery that surrounds him. Their everyday lives reveal a China that, contrary to the cliché, is ordinary and close.
Tue 31 Jul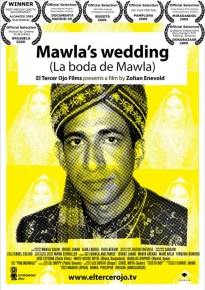 Mawla's wedding
Directed by Zoltan Enevold
52 min – Spanish/Bengali – English subtitles
Mawla is a young man from Bangladesh living in Madrid (Spain). He has a job and plenty of friends but his dream is to have a family. For the first time after seven years he decides to return to his country in search of a bride to get married.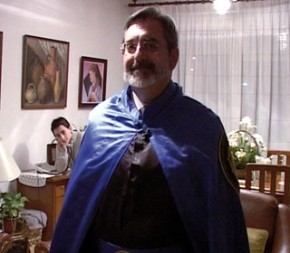 Mr. Easter
Directed by Óscar Pérez
54 min – Spanish – English subtitles
Easter arrives at Mellilla. Carlos Rubiales becomes, another year, Easter man. He is the presenter of the religious programme Cruz de Guía (Guiding Cross) that Melilla's Television broadcasts.