Brian Cregan, The Glass Garden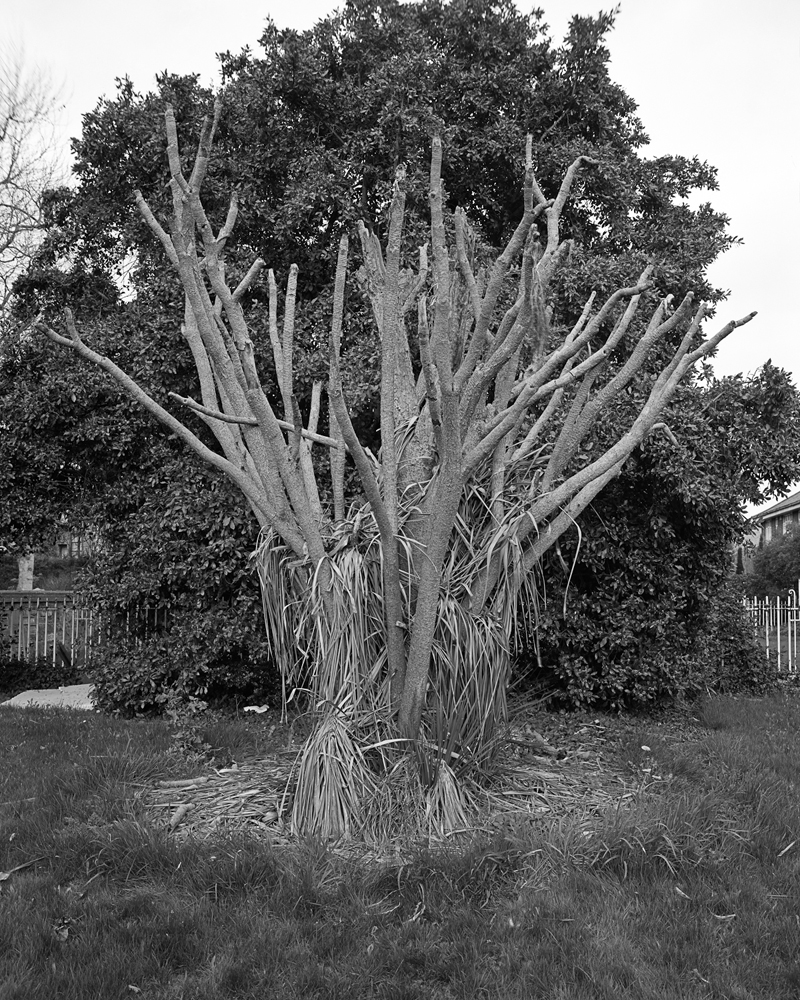 Taking the cordyline tree (Cordyline australis) as it's central component and inspiration, the work employs 'objective and scientific' methods to explore our relationship and use of photography in the recording, classifying and archiving of botanical specimens. The cordyline tree was introduced to Europe in the 1820s, around the time that experiments were being carried out that yielded the first photographic processes, and remains a common sight in many suburban gardens. During the hard winters of 2010 and 201, many of the trees died or were damaged with their remains left standing adding a monumental and memorial atmosphere in the garden. By invoking the history of the exhibition and the museum, the presentation of the work aims to provoke the audience into considering the display and representation of botanical and fine art objects within the context of the contemporary gallery and exhibition space. It also questions our desire to collect and the obsessive nature of photography.
Many of the photographs in the exhibition are based on the efforts of a group of collaborator/explorers who provided data and ideas for the work, by uploading photos, maps and comments to a social network group called The Glass Garden. Conversations, telephone calls, e-mails, chance encounters and the co-operation of the tree 'owners' also form the basis of this on-going participatory project that seeks to challenge traditional notions of artistic control and authorship.
Brian Cregan
I am a documentary and fine art photographer who is interested in themes that explore natural history, landscape and the built environment. Ideas around ritual and 'a sense of place' are key elements in my work, that takes photography as a starting point to build narratives around what is often overlooked or taken for granted.
briancreganphotography.com
Info
Opening day: 8.30pm Tue 24 Jul
Dates: 25-31 Jul
Opening hours:
11am-10pm
Exchange Dublin
Exchange Street Upper, Temple Bar, Dublin 2