Jens Komossa, Television Rooms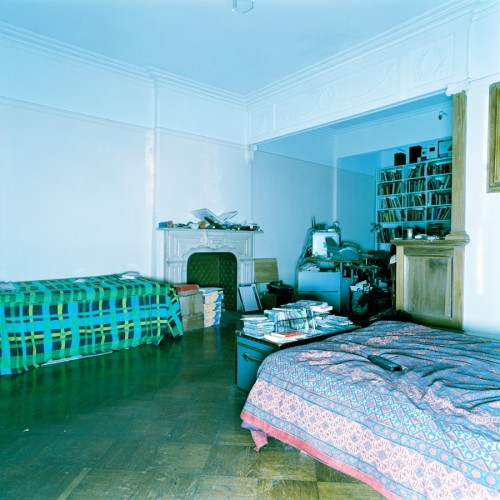 Jens Komossa's exhibition in The Return Gallery in the Goethe Institut, features several of his Television Rooms photographs. These eerie images are taken using only the light, which emanates from the occupant's television after dark. Komossa's photographic technique requires a long exposure time. The final outcome not only reflects the image of the room but also somehow evokes the time spent in the space. Jens Komossa places his camera directly in front of the television, with the lens directed not towards the screen but rather back into the room. You can imagine the room being somehow engaged in a long dialogue with the television (discussing the ideas transmitted), while bathed in its light. This acts as a reversed stage set where light is part of the occupant's arrangement of their space. By setting up their TV in a particular room, at a certain angle, they create their own installation.
In addition to the exhibition in The Return Gallery, Komossa has produced a series of transparent Television Rooms images installed on several windows throughout Dublin. The placement of the photographs, that provide a glimpse into the life of another, is taken one step further by the actual placement of the images on windows. These works have the advantage of being on show out of the normal viewing hours during the festival.
Jens Komossa
Jens Komossa (b. Duisburg/Germany) is an artist working in Berlin, Paris and New York. He has exhibited in Germany, England, France, and Holland, at art fairs including Paris Photo, Art Cologne, and the London Art Fair. He "sets out to discover the night, by presenting its light and deserted rooms," using a long-exposure technique that allows "hues to achieve an astonishing richness," and in which "isolated stretches of ceilings or walls become fields of color and texture." (David Galloway, ARTNews).
Komossa is a graduate of Folkwang, University of the Arts. He has lectured on art and photography at several institutions including the University of Applied Sciences in Mainz and Dortmund.
Info
Opening day: 6pm Wed 4 Jul
Dates: 5-31 Jul
Opening hours:
Tue-Thu 10am-6pm
Fri 10am-2.30pm


Goethe-Institut
37 Merrion Square, Dublin 2