Moira Sweeney, Stevedoring Stories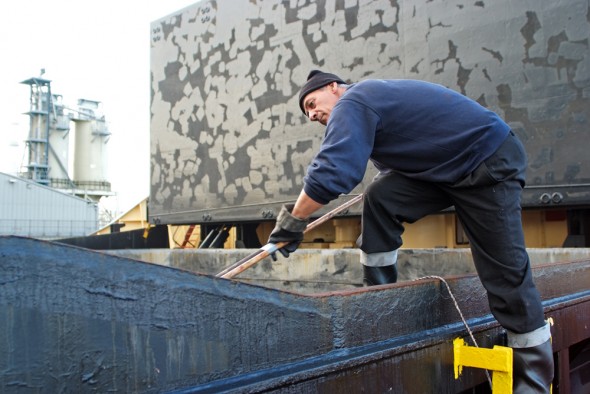 Moira Sweeney's 'Stevedoring Stories' is an audio-visual artwork which will be exhibited at CHQ on George's Dock in the heart of Dublin Docklands as part of  Tall Ships 2012. In the immensity of the globalised space of the docklands, despite its international nature, the stevedores and dockworkers still exist as a small and intimate community which has witnessed and can recall through oral history the rich tapestry of an area and life that remains relatively unknown territory for Dubliners. 'Stevedoring Stories' brings to life the experiences of generations of Dublin dockworkers and stevedores through photography, HD video, story and soundscape. The world of the Dublin docks is recalled through oral history as  'a world of masts, funnels, towering cranes, barges, carts, horses…a hundred sounds becoming a symphony of dockland'; in this multi-textured artwork of 'Stevedoring Stories', Sweeney creates an artistic space which evokes a fascinating contemporary symphonic experience of that little-known world.
Running parallel with this installation at CHQ there will be a stunning nightly video projection mapped onto the Dublin Port Company building, 9.30pm-1.30am 20- 26 Aug.  This lightscape can be viewed from The Point over the course of Tall Ships 2012.
'Stevedoring Stories' has been produced with the support of Tall Ships 2012, Dublin Port Company and the School of Media, DIT.
Moira Sweeney
Moira Sweeney works in photography, film, video and broadcast media. She has a BA Honors in Fine Art from the University of Northumbria and an MA in TV Drama from Goldsmiths' University, London where she won the Fuji Film Script Scholarship. Moira has extensive experience producing, directing and co-formatting successful documentary, studio based music and feature series' for RTÉ, BBC and TG4 and has been shortlisted for best documentary in the Boston Irish Film Festival and the Irish Film and Television Academy awards.  Her short films have been broadcast on Channel 4 and ZDF and achieved recognition with screenings at the key film festivals including London, Melbourne, Berlin, Dublin and Edinburgh. She has received awards from the Arts Councils of Ireland and England and the Banff Centre in Canada for her films and photographic series. Her current lens-based doctoral study at the Centre for Transcultural Research and Media Practice, Dublin Institute of Technology is titled Dublin Dockers – Visualising a Changing Community.
Info
Dates: 23-26 Aug
Opening hours: 
Thursday 23rd August 1pm- 7pm
Friday 24th August 11am-7pm
Saturday 25th August 11am-7pm
Sunday 26th August 11am-2pm
CHQ
IFSC, Docklands, Dublin 1
In conjunction with Dublin Tall Ships 2012 & Dublin Port Company