Jean Revillard, Sarah on the Bridge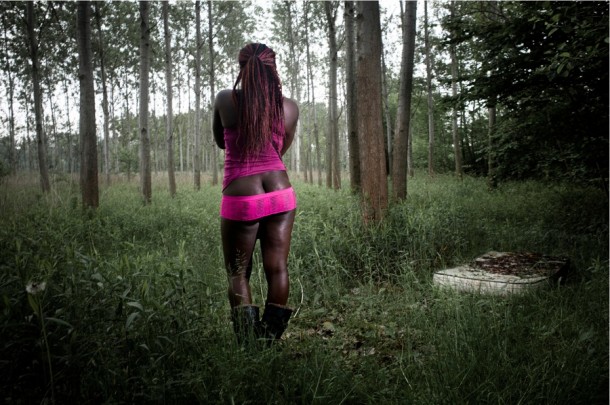 Jean Revillard's Sarah on the Bridge is a work about human trafficking, migration, and forced prostitution. It documents the journey of a young girl from Ghana to Europe, where she hopes to find a better future as a dressmaker. Once she arrives, however, Sarah enters the vortex of modern slavery often connected with migration, as she is forced to pay back her debts by selling her body, in a forest near the Italian town of Turin. This is where the artist met her, on a day in March, in 2010: "She sold her body on a dirt road. The encounter was fierce, full of mutual fear, and the first photos wobbly. Sarah was a girl among others to shoot on these country roads northeast of Turin. I covered this area for several months, concentrating on a few routes to map the positions of the 'fireflies' as they are called in Italy, to meet girls who have turned to prostitution to pay their passage to Europe.
There was that girl. Her words. Her chair, her fire, and her umbrella. There is this dirt road, the forest, mattresses, and in the middle there is this bridge, a metaphor for the passage so difficult to reach Europe."
As Jean's detailed records of her journey reveal, Sarah has meanwhile moved on to live in Athens. Others have substituted her, have placed their chairs where hers was, maybe one has put their mattress on top of Sarah's old one, using it to generate income for the next movement. There are many Sarahs, and many bridges.
Kindly supported by Pro Helvetia, the Swiss Arts Council.
Printed by FIRE Fine Art Printers
Jean Revillard
Jean Revillard was born in 1967 in Geneva. He spent his childhood in Dardagny surrounded by painters, sculptors and photographers. He joined in 1988, the defunct school photo Yverdon, having as Professor Luc Chessex, Jesus Moreno and Christian Caujolle. He opened the gallery in Geneva in 1988 Europa. So he gathers documents photographers East Germany, he found himself in East Berlin on the night of November 9, 1989. It will make an exhibition and their photos will be published in European magazines.
In 1989 he also work in Morocco and met Paul Bowles in the film a Tea in the Sahara. In 1990 he left Switzerland to Ireland and spent two years in Dublin. It performs work on the urban landscape. He studied the history of photography and work on the history of the train photographers in the United States. He returned to Switzerland after a brief stint in Belgium, then worked in New Daily L'Hebdo. As for the press to Switzerland where he travels in Eastern Europe and the former Yugoslavia. Meanwhile, he manages the Gallery Focal Nyon he resumed the presidency in 1996.
In 1997 he outlined a series of portraits of politicians at the Centre of Photography in Geneva. In 1999 He worked on a participatory photography project and photograph an entire village in western Switzerland, Cartigny. He creates a portrait with their huge outdoor exhibition will bring together 14,000 people. In 2001 he scan archival photographs and founded the first Swiss Agency Online Western Switzerland Rezo.ch. Soon the photo tray become an agency of 5 photographers. Rezo.ch work is recognized today for the Swiss and international, and has received numerous honors and awards in competitions. And has won four prestigious World Press.
Between 2003 and 2004 for 11 months on an old steel sailboat, he crossed the Atlantic twice by making reports in Family during the stopovers. On this occasion, he discovered another face of illegal immigration in the ports where it stops and decides to start work on this subject.
His work on the cabins of migrants in Calais will win a first prize at the World Press Photo Award in the category Contemporary Issues Press and a Swiss International Award in the category.
In 2009 he again won a World Press and the price of the city of Prague to the portrait of a migrant photographed in Patras. He released his book "Jungles" at Editions Labor et Fides. TSR devotes a film about his reporting "Migrant photographer Jean Revillard. In 2010, he started a new project on the trafficking of African women forced into prostitution in Italian forests. He wins Nicolas Bouvier for all her work on illegal immigrants.
Today, he continues his photographic research on the urban landscape and portrait in dealing with contemporary subjects. It seeks to occupy territory to make resort in the hidden realities as with migrants in Northern France. He lectures and workshop on photojournalism.