Greg Constantine, Nowhere People: The World's Stateless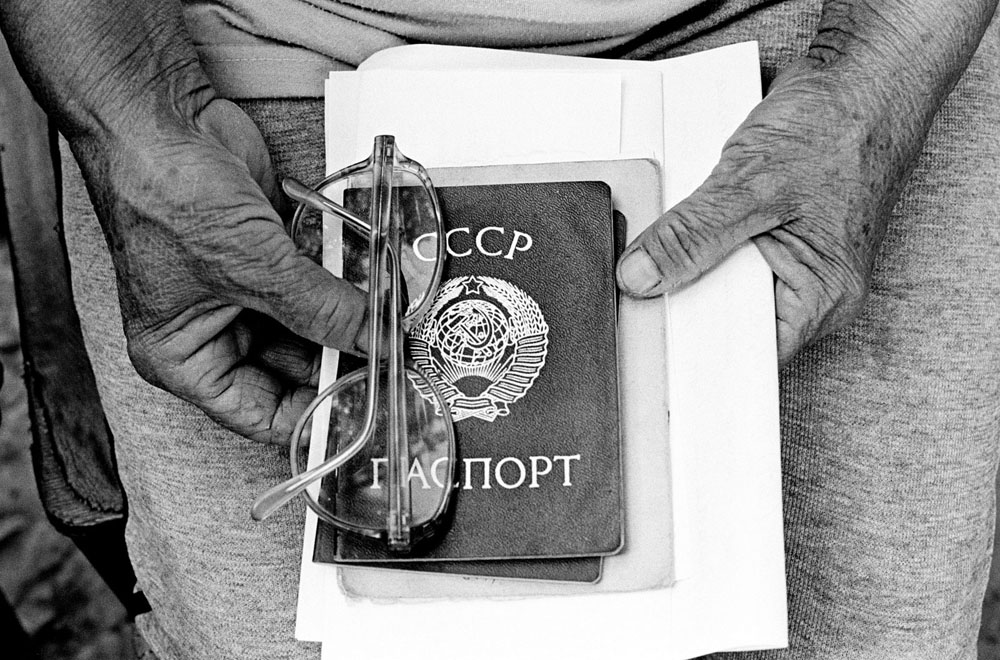 "I am like a bird with nowhere to rest on the ground but which can't spend his whole life in the sky."
Yasser, stateless.
Nationality might seem like a universal birthright, but an estimated 12 million people are living without it. These stateless people have no legal identity, are citizens of no country and are some of the most vulnerable and invisible people in the world.
Without nationality, stateless people are often unable to enjoy a wide range of rights and are prevented from fully participating in society. Many stateless people are unable to register the birth of a child, go to school, work legally, travel freely, own property or obtain vital identity documents or passports. Moreover, statelessness frequently leaves a person without a sense of identity and with little or no voice.
Ireland is a party to the two main statelessness Conventions and the Government of Ireland is working closely with UNHCR on the issue of statelessness.
Over the past five years, photographer Greg Constantine has been working to bring to light the stories of stateless people around the world and give a human face to this global issue. Nowhere People reveals the impact of statelessness on people and communities who find themselves excluded from society by forces beyond their control. The project serves as a reminder of the existence of the millions of stateless people who are hidden and forgotten around the world.
But statelessness can be prevented and resolved, often through simple, low-cost action. UNHCR works to address statelessness by assisting governments to ensure that laws and procedures prevent statelessness from occurring and allow stateless people to acquire a nationality. Under its statelessness mandate, UNHCR is advising stateless people on their rights and how to access procedures. With partners, it undertakes citizenship campaigns to help stateless people to acquire nationality and documentation.
Nowhere People serves as a reminder of why it is so urgent to resolve this global problem.
Visit Greg Constantine's website: http://www.gregconstantine.com/
About UNHCR http://www.unhcr.ie
The Office of the United Nations High Commissioner for Refugees is mandated to lead and co-ordinate international action to protect refugees and resolve refugee problems worldwide. UNHCR Ireland works to safeguard the rights and well-being of refugees, asylum seekers and stateless people in Ireland through the provision of guidance, training and support to the Irish authorities and through the promotion of best international standards in respect of legislation, policy and procedures.
Read more about UNHCR's work in Ireland: http://www.unhcr.ie/our-work-in-ireland
Greg Constantine
Greg Constantine is an award-winning photographer from the United States. In 2005, he moved to Asia and began work on his project, Nowhere People.
From early 2006 to 2008, Constantine worked specifically on statelessness in Asia and has since photographed stateless communities from Bangladesh, Myanmar, Nepal, Malaysia and Sri Lanka. In an effort to highlight the scope of this global issue, UNHCR and Constantine have worked together several times since 2008. These collaborations focused on statelessness in Kenya, Ukraine and Côte d'Ivoire.
His work has received a number of awards, including from Pictures of the Year International, NPPA Best of Photojournalism, the Amnesty International Human Rights Press Awards (Hong Kong), the Society of Publishers in Asia, and the Harry Chapin Media Award for Photojournalism. Constantine was a co-winner of the Osborn Elliot Prize for Journalism in Asia, presented annually by the Asia Society. Work from his project Nowhere People has been widely published and exhibited in Asia, Europe and Africa.
He is based in Southeast Asia and plans to continue working on Nowhere People through 2011.
Info
Opening day: 5pm Fri 6 July
Dates: 5–19 July
Opening hours:
Mon–Fri 9am-6.30pm
The Atrium
Department of Justice and Equality
51 St. Stephen's Green, Dublin 2