Paul Kelly, Landless in Chaco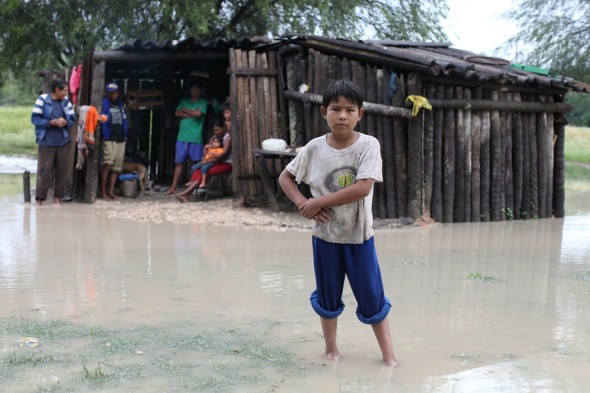 Supported by Irish Aid and the Simon Cumbers Media Challenge Award Fund
The Gran Chaco – the second largest forest reserve in South America after the Amazon and covering parts of Argentina, Paraguay and Bolivia is the victim of rapid deforestation. Earlier this year with the help of Irish Aid, photographer Paul Kelly and journalist Fionuala Cregan visited some of the 25 different indigenous ethnic groups who for centuries lived in harmony with their environment but today have been forced from their lands by cattle ranchers and soya farmers. Enxet Sur leaders like Beningno Rojas are leading the struggle to have indigenous ancestral land rights fulfilled and their territory returned to them. Some have succeeded – others are still fighting. This collaboration highlights both through portraits and words the strength of their resolve, the power of hope and inspires us, the viewer, to learn more about this historic struggle.
Paul kelly is a commercial photographer working mainly in portraits and observational photography based in Ireland. He also regularly covers development issues. His work from Timor Leste, Bolivia, and Guatemala has appeared in the primary Irish broadsheets and also on television. His exhibitions over the past 5 years include 'Beyond Timor' at the Hive, Dublin 'People' Garter Lane Waterford and the group show 'Standing Alone' at the Paul Kelly gallery Dublin.
Fionuala Cregan is a freelanced journalist currently based in Argentina. She has worked for various international organizations including the UN Development Programme in Timor Leste and the Global Call to Action Against Poverty providing communications support. She has written for the Irish Times and contributes to www.upsidedownworld.org which covers social movements and politics in Latin America.
Info
Opening day: 6.30pm Thu 26 Jul
Dates: 27 Jul-29 Aug
Opening hours: Mon to Fri 10am-5pm
Irish Aid Information Centre
27-31 Upper O'Connell, Dublin 1