Evelyn Hofer, Dublin and Other Portraits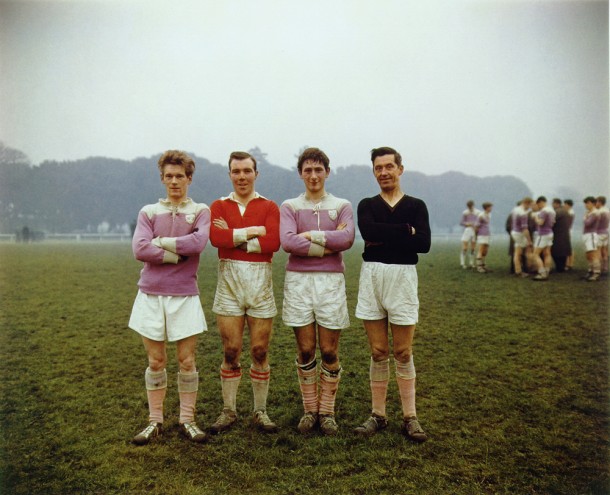 Gallery of Photography Ireland and Galerie m Bochum present the Irish premiere of the work of Evelyn Hofer (1922–2009). At the heart of this specially curated exhibition are Hofer's beautiful and considered photographs made during her visit to Dublin in 1966. In colour and black and white, the work captures Ireland at the tipping point between an older, more conservative culture and the emerging modern world.
The exhibition also features selected images from Hofer's international practice, including her portraits of Warhol at the Factory and other American street scenes. What is always remarkable about Evelyn Hofer's photographs is the keenly felt balance of her compositions and the empathy she demonstrates with her subjects.
Hilton Kramer, the chief art critic at The New York Times, once called Evelyn Hofer "the most famous unknown photographer in America", a title she did not dispute. He hailed her work for its "quality for pure observation" adding that for Hofer "There are no 'low' subjects. Everything she photographs acquires a high dignity."
In recent years, the work of Hofer's long-time assistant Andreas Pauly, as well as the monograph edited by Susanne Breidenbach and published by Steidl in 2004, have led to a rediscovery of the work of this extraordinary photographer.
Gallery Talk: Susanne Breidenbach, Director of Galerie m Bochum, will give a talk about the life and work of Evelyn Hofer on Friday July 6 at 1.15pm.
The Exhibition is kindly supported by the Goethe-Institut Irland. It is a keynote exhibition of the PhotoIreland Festival 2012. Thanks also to Maurice Ward Art Handling and Andreas Pauly/ Estate of Evelyn Hofer.
Evelyn Hofer
Evelyn Hofer was born in 1922 in Marburg, Germany. She began he career as a photographer in the mid 1940s, after fleeing Germany and arriving in New York where she was quickly taken up by the legendary art director Alexey Brodovich.
One of the earliest modern colorists, Hofer's work subtly updates the traditions of Atget and Sander adding color, irony, and a female perspective on the world. Moving back and forth between portraits and landscape, and black and white and colour, over the four most active decades of her career, Hofer created a body of work that made her in critic Hilton Kramer's words "one of the most accomplished masters of the medium".
While frequently busy doing editorial commissions for Condé Nast magazines, Hofer's personal work includes a series of collaborative books focused on individual cities, including Dublin: A Portrait (1967).
While known mostly to a small circle of commissioning editors and cognoscenti during her lifetime, Hofer is only now attracting the significant critical acclaim her work merits. In 2004, on the instigation of Susanne Breidenbach, Steidl published a major monograph Evelyn Hofer. In 2006 a retrospective exhibition was presented at The Hague Museum of Photography. Hofer's work has now begun to be seen alongside her peers ranging from Diane Arbus to William Eggleston. She died in 2009 in Mexico City.
Galerie m-Bochum
Founded in 1969, the gallery m is owned by Susanne Breidenbach since 2003. The program concentrates on international contemporary art including painting, sculpture, graphics, photography, film, video and installation. The support of upcoming young artists is as important as the continuous work with already established artists, such as Richard Serra, Lee Ufan and François Morellet. Young artistic positions are not considered with reference to passing trends, but rather in terms of a long term collaboration and continued support for their artistic development. Artists discovered by the Gallery include photographers such as Evelyn Hofer, Lucinda Devlin and Aino Kannisto, Simone Nieweg and Thomas Florschuetz, painters Caroline von Grone and Alfredo Álvarez Plágaro and Peter Wegner. In addition to Art Basel, the gallery regularly participates at Paris Photo and also publishes a wide range of artist's books and monographs.
Gallery of Photography Ireland
Since its inception in 1978 the Gallery of Photography has become Ireland's premier centre for contemporary photography. The Gallery has exhibited many of the leading names in photography and provides an important platform for emerging artists from Ireland and abroad. In addition to exhibitions, the gallery also provides photography courses, a specialist photography bookshop, membership programme, studio / darkroom facilities, and state-of-the-art digital production facilities. The Gallery, which is non-profit making, is funded by the Arts Council and Dublin City Council, and also welcomes donations, sponsorship and support from members to help promote its activities.
Info
Opening day: 6.30pm Thu 5 Jul
Dates: 6 Jul–31 Aug
Opening hours:
Tue-Sat 11am-6pm
Sun 1-6pm
Gallery of Photography
Meeting House Square, Temple Bar, Dublin 2

View Larger Map