Senija Topcic, Decency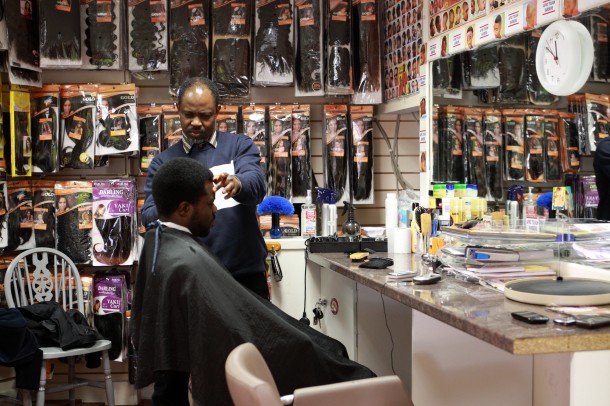 'Decency' is an exhibition of four selected photographs from a series of images taken by Senija Topcic relating to the Nigerian community in Ireland. The title of the exhibition, 'Decency' (borrowed from a Nigerian restaurant of the same name in Dublin) suggests a quiet respect for difference and the aspirations of the immigrant. That is, while one recalls one's origins in the way of living in a new location, one simply wants to get on with everyday living with mutual respect.
Drawing on her own experience of migration, Topcic immerses herself in the pursuit of a diversity of images that silently and without a set ideology or commentary reflects a living community. While allowing the viewers of these images to impose their own interpretation on the images, the subject matters chosen by Topcic are telling in their own way. By concentrating on the normal activities of eating, grooming, education and religion you cannot but empathise with the subjects.
Senija Topcic
Senija Topcic, born in the former Yugoslavia, currently lives and works in Dublin. Her work is primarily lens based. Through her practice she seeks to present her personal world-view. She does so by drawing on her own life experiences, her individual perspective being one of fractured exploration. Her work navigates the liminal space of the 'in-between'. Using a documentary style, Topcic aims to provoke and expose the juxtaposition of people and place, of man and environment and of order and chaos. Moving from the particular to the universal, she is attracted by stories of quotidian occurrences, taking seemingly banal situations and delving into them for another meaning. She has always been interested in making her work accessible to any given audience. Her approach has also led her to work in theatre. Most recently, she has created a series of photographic works that explore vacant communal spaces in temporary military bases in conflict zones. Here she looks specifically at the corrosive effect of the personal and political tension associated with such sites of friction. She is currently developing a publication on an Irish UNIFIL base in South Lebanon, this will be published in late 2012. Recent exhibitions include group shows at RUA Belfast and IMOCA Dublin.
Info
Opening day: 6pm Wed 4 Jul
Dates: 5-31 Jul
Opening hours:
Tue-Thu 10am-6pm
Fri 10am-2.30pm


Goethe-Institut
37 Merrion Square, Dublin 2