Creating the Perfect Print, sponsored by Canon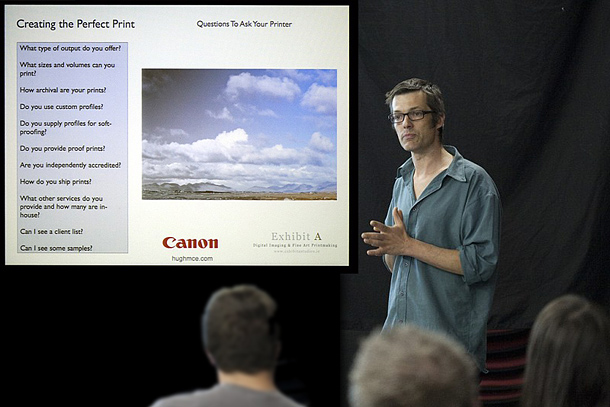 Special workshop by Hugh McElveen on Creating the Perfect Print, sponsored by Canon Ireland on Sat 14 & Sun 15 July.
In order to get the most out of the digital photographic printing process it is necessary to understand how colour works and is controlled in the digital environment. This one hour seminar shows photographers how to control the colour chain from capture to print in order to get the best quality exhibition prints possible. By understanding the medium and its limits the photographer is empowered to fully participate in and control the creative process.
During the workshop, Hugh McElveen will be using a Canon Pixma Pro 1 printer.
Hugh McElveen lectured in Digital and Evolving Technologies at IADT between 2001 to 2008. He also founded the digital imaging programme at the Gallery of Photography in 2000. In 2008 he co-founded Exhibit A Studios, fine art printmakers. Hugh runs workshops and provides customised training solutions for digital imaging practitioners. He has been working as a professional photographer since 1995, recently specialising in studio still life and the colour critical area of art work documentation.
Booking is essential.