Adapt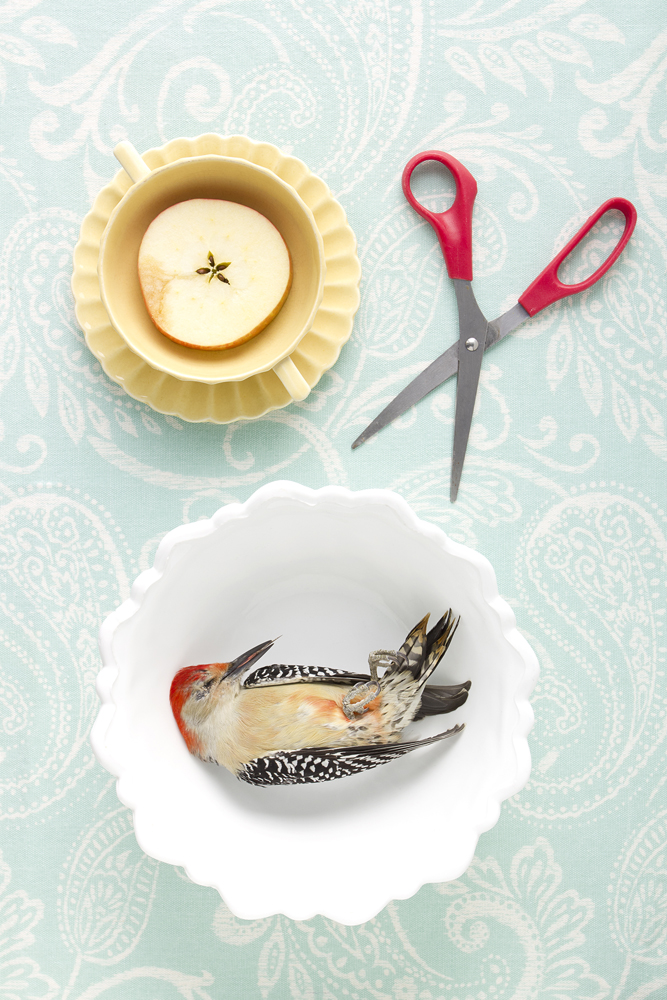 Adapt: to make fit (as for a new use) often by modification (definition from Merriam- Webster)
In keeping with the simplicity of the term, seven American artists in this exhibition are dealing with the concept of adaptation, whether on a global, local or personal level. Changes in spaces, both public and private are a common link to the works. Documentation of this process of change is shown in unique and thought-provoking ways through photography, digital art and video.
Curated by Amy Stevens
Artists: Noah Addis, Joelle Jensen, Allison Kaufman, Michael Mergen, Tim Portlock, Jeffrey Stockbridge, Kimberly Witham
www.adaptshow.com
This exhibition is part of a cultural exchange of exhibitions between curators Angela Duignan (Ireland) and Amy Stevens (US.)  In the spring of 2012, seven Irish artists held an exhibition at the Center for Emerging Visual Artists in Philadelphia of contemporary video and photography.
www.interchangeshow.com
Amy Stevens
Amy Stevens is an artist, curator and educator based in Pennsylvania. Her personal artwork has been exhibited widely throughout the United States, in addition to Canada, Ireland and China. Her work is held in collections at the Museum of Fine Arts in Houston, Beaverbrook Art Gallery in New Brunswick Canada, and the Indie Photobook Library. In the summer of 2010 while participating in the art@work residency programme in Roscommon.   This is where Amy got to know Angela Duignan and the idea for these exchange exhibitions was forged by their new friendship and a desire for an international collaboration.
www.amystevensart.com
About the photographers
Noah Addis
Noah Addis has been working as an artist, photojournalist and documentary photographer for more than fifteen years. His work has been published in major publications including The New York Times, The Wall Street Journal, Time, Newsweek, People, US News & World Report, Life's Year in Pictures and many others. Addis graduated Magna Cum Laude from Drexel University in Philadelphia with a degree in Photography. He also studied at the Salt Institute for Documentary Studies in Portland, Maine. His work is held in public collections including The Philadelphia Museum of Art and the Free Library of Philadelphia. He was recently awarded fellowships from the Independence Foundation and the George A and Eliza Gardner Howard Foundation. Noah lives in Philadelphia, Pennsylvania.
www.noahaddis.com
Joelle Jensen
Joelle Jensen is a photographer and independent curator living in Brooklyn, NY. Jensen has participated in numerous exhibitions in galleries, universities and non-profits nationwide, including Wall Space Gallery, Seattle & Santa Barbara; Photographic Center Northwest, Seattle; Michael Mazzeo Gallery, New York; Abrons Art Center, New York; Brooklyn Arts Council, Brooklyn; Felicity R. Benoliel Gallery, Philadelphia; Icebox, Philadelphia; Emory University, Atlanta; and the University of Vermont, Burlington. She received several awards for her photographs, including a darkroom residency at Camera Club of New York and a Two-Year Fellowship from the Center for Emerging Visual Artists. Publications include Magenta Foundation's Flash Forward, Esquire (Russia), PDN, and The Photo Review. Jensen's recent solo exhibition, Nesting, took place at House Gallery in Salt Lake City, Utah. Curatorial projects include Drawing Pictures at Camera Club of New York, Posing at Abrons Art Center and Mad Cow: Absurdity & Anxiety in Contemporary Culture at NURTUREart Gallery in Brooklyn, NY. Jensen currently serves on the board of the Camera Club of New York as the chair of the exhibition committee.
www.joellejensen.com
Allison Kaufman
Allison Kaufman is a photo and video artist living in New York City. She received her BFA in Film and Television Production from NYU's Tisch School of the Arts in 2000 and her MFA in Photography, Video, and Related Media from the School of Visual Arts in 2008. Her work has been exhibited throughout the United States at the Aqua Miami, VOLTA, and Affordable Art Fairs, Hendershot Gallery, Moore College of Art and Design, Pittsburgh Center for the Arts, and Artists Space, as well as Galerie Scherer8 in Berlin. Kaufman is the recipient of the Paula Rhodes Memorial Award and an Alumni Scholarship Award from the School of Visual Arts, has been an artist-in-residence at Yaddo, the Constance Saltonstall Foundation of the Arts, and Penland School of Crafts, and was recently a fellow at the Center for Emerging Visual Artists. Her work has been reviewed in the Huffington Post, the Pittsburgh-Tribune Review, and Bomb Magazine's BOMBlog. Kaufman teaches at a variety of institutions and is currently an adjunct professor at Tisch School of the Arts at NYU. Recently, she was featured on Art/ Trek NYC, a documentary TV series that showcases an emerging artist in each of New York City's five boroughs. Kaufman's first solo show will take place at HERE Arts Center in NYC in July 2012.
www.allisonkaufman.net
Michael Mergen
Michael Mergen is a photographer and artist based in Southern Virginia. Born in 1978, Michael earned a BFA in photography from the Rochester Institute of Technology in 2000 and a MFA in photography from the Rhode Island School of Design in 2011.
He began his photography career as a photojournalist and soon after, working for national newspapers and newswire services in Boston and then his hometown of Philadelphia. Following a two year artist fellowship with the Philadelphia based Center for Emerging Visual Artists, Michael began pursuing his art work. His work focuses on ideas and notions of America and its institutions. Earlier work analyzing suburban office parks, housing developments and shopping malls evolved into 1600 Pennsylvania Avenue, a series of photographs that used the address of the White House in which to frame the landscape of the United States. The work was exhibited in his first solo exhibition and published in Mother Jones magazine. He is an assistant professor of art/photography at Longwood University, Farmville, VA.
www.mimages.com
Tim Portlock
Tim Portlock was born in Chicago, which inspired his lifelong interest in the dialogue between place and the formation of identity. Educated primarily as a traditional visual artist, Portlock has worked in the past as a community-based muralist as well as a studio painter. His current body of work is created using 3D gaming technology to simulate real world and imagined spaces based on the abandoned and foreclosed buildings in biking distance of his home in Philadelphia.
www.timportlock.net
Jeffrey Stockbridge
Jeffrey Stockbridge is a photographer based in Philadelphia, Pennsylvania. Stockbridge is well known for his projects documenting illegal drug use, prostitution and urban blight in Philadelphia for which he has received several grants and awards. Stockbridge is a recipient of a Pennsylvania Council on the Arts Grant, Independence Foundation Fellowship in the Arts Grant and a Center For Emerging Visual Artists Fellowship. His work has been widely exhibited nationally and internationally. Recent exhibitions include The National Portrait Gallery in London, The Philadelphia Museum of Art, Galerie Huit in France and The Wapping Project Bankside in London. Stockbridge was recently awarded 3rd Prize in the 2010 Taylor-Wessing Photographic Portrait Prize at The National Portrait Gallery in London.
www.jeffreystockbridge.com
www.kensingtonblues.com
Kimberly Witham
Kimberly Witham was born and raised in Wakefield, Rhode Island. She studied art history at Duke University and Photography at the University of Massachusetts-Dartmouth. Her photographs are strongly influenced by her studies in art history and her interest in the natural world. Her work has been exhibited at venues including the Jersey City Museum (Jersey City, NJ), Chashama ABC (New York, NY), The Light Factory (Charlotte, NC) and The Print Center (Philadelphia, PA). Kimberly is an Assistant Professor of photography and art history at Bucks County Community College. She was the 2011 recipient of the Lindback Distinguished Teaching Award and is a current fellow in the Career Development Program at the Center for Emerging Visual Artists in Philadelphia. She currently lives and works in High Bridge, NJ.
www.kimberlywitham.com
Info
Opening day with curator/artist talk: 5.30pm Thu 19 Jul
Dates: 20 Jul-4 Aug
Opening hours:
Tue-Sat 12-5pm
Closed Sun & Mon
Broadstone Studios and Gallery
22 Harcourt Terrace, Dublin 2