Joby Hickey, 20,000km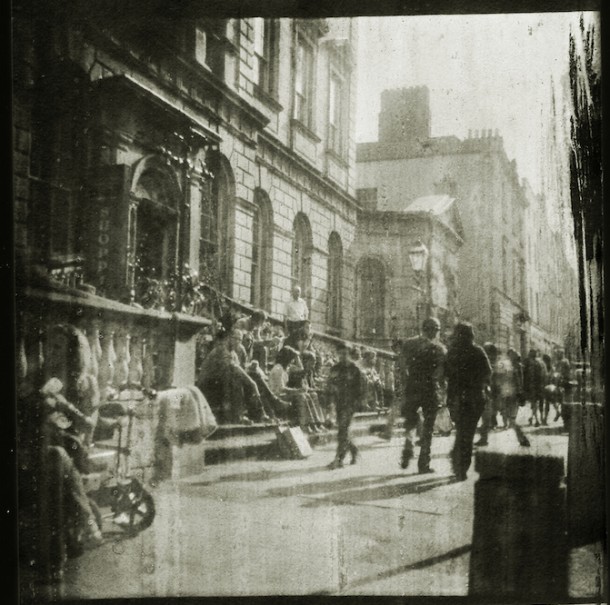 Using pinhole cameras and a fixed lens camera he has designed and constructed, Joby Hickey produces large format black and white images with an intrinsic cinematic quality. These images appear to float between the blurred present day, the familiar recent past and the almost forgotten bygone years. He is interested in capturing an idea of having lost one's bearings, sense and time, thereby illustrating aspects of what he consider to be a contemporary malaise.
Within the narrative of the image, there is a crucial sense of life being lived off camera with my images. A continuity of experience stretching before and after the subject was captured on the negative plates he has created. The resulting images depict elements of the character of both the subject and the setting that convey a real sense of back story and also of transience.
He strives to capture a sense of spontaneity in a series of unplanned encounters, which are as random as an unselected memory or a dream sequence. These are then manipulated in the dark room using my own heating and chemical techniques to reveal the real essence of the scene, often uncovering elements that were not apparent to the naked eye.
Joby Hickey
Born in dublin,Joby Hickey moved from dublin to the greek islands as a baby and lived there till the age of six. His father taught fine art at the N.C.A.D and also taught Joby painting at a young age. Joby made his first pinhole camera at the age of ten. After he finished secondary school, he attended Dun Laoghaire School of Art. He then went to work in film, with such film makers as David Shaw Smith and Peter Robinson.
A few years later, he returned to painting where he was met with commercial and critical acclaim, getting into galleries in London, Dublin and Paris. He then came 3rd place out of 3,000 in a film competition, his film was about world war two. Taking time out from painting, he returned to photography and began making his own negative plates and cameras, which imbued his work with a uniquely ironic perspective. Joby Hickey has had solo shows in Berlin, Paris,London,Dublin and Galway.
Info
Opening day: 6pm Wed 11th Jul
Dates: 12-31 July
Opening hours: Mon-Sat 12am-6pm
Sebastian Guinness Gallery
42 Dawson Street, Dublin 2