Oksana Afonina, 13.raw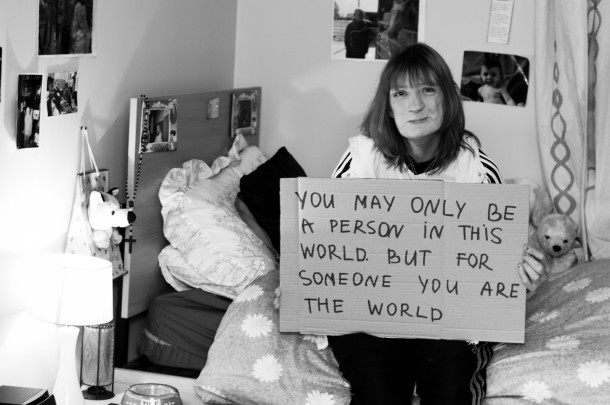 Home. What does it mean to you? Is it just walls and a roof? Or is it a place where you feel safe and secure? Is it somewhere warm? Is it somewhere close to your heart?
For us home is an internal place.
We are 13 people and each of us has a story to tell. But it is not only about us. There are many more like us. And many more different from us. The thing is – when life gets tough we are just like everyone else. We let people in, we love, we care and we smile. '13.raw' is an opportunity to connect, to listen and to understand. We are homeless but not hopeless.
The series of black & white photographs is inspired by the "13 phrases of living" by Colombian novelist Gabriel García Márquez. These are simple thoughts which people tend to forget, which make us happy and which unite people from all social backgrounds.
In '13.raw', these phrases are embodied by simple and realistic portraits of homeless people of various ages and backgrounds. The phrases mirror poignant stories from their lives and offer a window into their unique personalities.
The project was conducted in Depaul Ireland – a cross border charity which offers people who are homeless and disadvantaged the opportunity to fulfil their potential and move forward towards an independent and positive future. The richness of this project lies in its collaborative nature. Over 3 months photographer Oksana Afonina and Depaul Ireland volunteer Evgenia Kovalenko organised group and individual discussions about 'Positive Living' across Depaul Ireland's services in Dublin. The project participants discussed the phrases and tried to find reflections in their lives. This encouraged positive thinking, self-awareness and boosted their self-confidence. The approach allowed us to produce artwork and accompanying stories which reflect the reality and hopefulness that encompasses the homeless experience.
Oksana Afonina
Oksana Afonina, a largely self-taught photographer, is a Ukrainian living in Dublin. Her interest in photography started over 10 years ago when she found an old analog camera on her grandparents' attic and since then it has grown from a hobby into real passion and occupation. Oksana works both in color and black&white, mostly in street photography genre. Currently she became focused on social documentary.Oksana's photojournalistic style has classical edge and influenced by works of Dennis Stock and Henri Cartier-Bresson. '13.raw' is her second exhibition on show in Dublin.
Info
Opening day: 6.30pm Mon 25 Jun
Dates: 26-30 Jun
Opening hours:
Mon-Fri 9.30-5.30pm
Sat 10-5pm
Filmbase
Curved Street, Temple Bar, Dublin