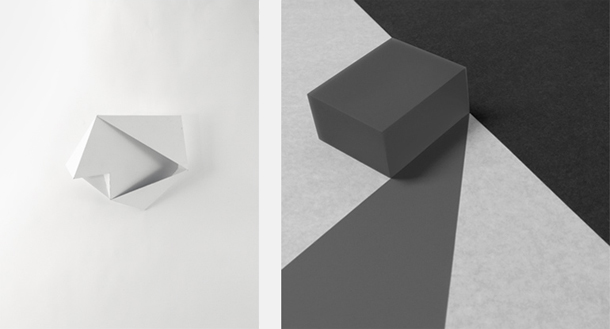 For this year's PhotoIreland festival, Monster Truck presents an exhibition featuring two Irish artists living and working in Britain, Suzanne Mooney & Mark McCullough. Both produce conceptual, lens-based works, which while abstract, concern ideas of representation: McCullough by combining motifs and visual phrases from draughtsmanship and geometry to provide an alternation between design and result; Mooney, by taking pre-existing materials and products and collapsing them to unsettle dimensional pre-conceptions.   A mutually beneficial relationship between sculpture and photography exists within McCullough's practice, where the delineative properties of the photographed objects fades the moment of their three-dimensional origins, using a faint suggestion of depth to delicately convey ideas of space and vision, without overly burdening them with overt physicality.   Mooney's work situates itself in an arena where the fetishisation of objects occurs; her visual props are raw display systems – the functional, professional materials used in retail environments, used to draw attention not to themselves, but to the products they support and surround.  Their actuality is presented in such a way – with, for instance, deft economy of tonal contrast – as to provoke disbelief in their tangibility. 
Their actuality is presented in such a way – with, for instance, deft economy of tonal contrast – as to provoke disbelief in their tangibility. Neither use digital, nor ex-camera manipulation in their images. Scenes and objects are suggestively interpreted, but never violated.
Mooney will also feature in a documentary produced by Source Magazine, which will be screened, as part of the festival, at Moxie Studios 7pm Fri 13 Jul
Curated by Davey Moor.
Suzanne Mooney
Suzanne Mooney, b. Ireland 1976, lives and works in Bristol. She holds an MA from the RCA, London and BA from the Chelsea College of Art. Solo exhibitions include The Edge of Collapse at Spike Island, Bristol, 2012; Equilateral Coercion, do it yourself art centre, London, 2011; Decommissioned Camera Series, Gallery of Photography, Dublin, 2007. Group exhibitions include Things That Have Interested Me, Waterside Contemporary, London, until 14 July 2012; Human/Nature at Farmleigh Gallery, Dublin, 2011; Rotate, Contemporary Arts Society, London, 2011. She is currently working as a senior lecturer at UWE, Bristol.
Mark McCullough
Mark McCullough, b. Ireland 1981, lives and works in London. He holds an MA from Central Saint Martins and BA from NCAD, Dublin. Exhibitions include Abort, Retry, Fail?, South Square Gallery, Bradford, 2011; Trans Siberian Arts Centre – Moscow to Beijing, 2011; Salon Art Prize 2010, Matt Roberts Arts, London, 2010; From Where I Stand, Cork Art Trail, Ireland, 2007.
Davey Moor
Davey Moor is a curator, art manager and photographer. He has worked as a curator for Monster Truck, Dublin since 2008. Previous curatorial projects include Human / Nature, Farmleigh Gallery, Dublin; you remind me of a poem I can't remember and a song that may never have existed, in a place I'm not sure I've ever been to, In_Flux, Limerick, 2011; something tells me it's all happening at the zoo, Kevin Kavanagh, 2010; Demise en Scène, PhotoIreland, Monster Truck | Temple Bar, 2010; Spooky Action at a Distance, Monster Truck | Temple Bar, 2010; The Life and Times of Lillian Virginia Mountweazel, Monster Truck | Francis St, 2009. Previous positions include registrar to the State Art Collection at the OPW's Art Management office; director at Kevin Kavanagh, Dublin & programmer at One Gallery, Dublin. He holds an MA in Cultural Policy & Arts Management from University College, Dublin and a Diploma in Photography from the IADT, Dún Laoghaire.
Info
Opening day: 6pm Thu 5 Jul
Dates: 6-28 Jul
Opening hours:
Tue-Sat 12pm-6pm
Monster Truck
4 Temple Bar, Dublin 2